Lavandula augustifolia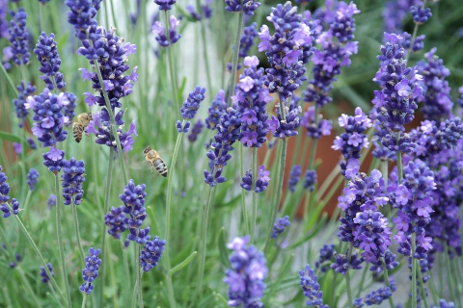 Also called true lavender, English lavender, garden lavender or narrow-leaved lavender.
The story…
Common lavender is native to the Mediterranean region, in mountainous and sunny areas. It is naturalized in the rest of Europe, Australia and the United States. In France, it grows in the wild mainly in Provence but can also be cultivated in other regions, on calcareous and well-drained, poor and dry or cool soil. Its name comes from Latin lavo, to wash, because it was used to perfume linen during the Middle Age.
Uses
Stress management
Lavender helps to balance the nervous system. It is relaxing in case of stress: antispasmodic effect (relaxes tense muscles, for example in the shoulders and the neck); lightly hypotensive (calms a slightly overexcited heart). It prepares for sleep by appeasing the mind and is effective against anxiety, especially with heart palpitations.
During periods of mental tiredness (especially exhaustion or migraines after several days of intensive stress), it can be used as cerebral tonic: it stimulates cognitive capacities (for example when taking important decisions) as well as motivation in case of demoralization due to stress. Drink as an infusion.
Burns and muscle or joint pains
For all kinds of burns, for example sun burns. It eases muscle contractions, including digestive or menstrual cramps (antispasmodic effect), and rheumatic pain. Apply externally oily macerate.
Preparation
Flower infusion: 2 to 3g per cup (depending on the quality). Combine for example with skullcap or passionflower (when the mind is hyperactive); with German chamomile and orange flower (to prepare for sleep); with hawthorn flowers and rose petals (against anxiety); or with rosemary (for the tonic effect). 2 to 3 cups a day, during a few days.
Small bag full of lavender flowers next to the pillow (to prepare for sleep), to rub against the pillow when going to bed to release the scent.
Oily macerate: can be combined with hypericum oily macerate for burns; with true laurel and common juniper for joint pain.
Precautions
In case of persistent symptoms or if you have any doubts, consult a doctor.