Fumaria officinalis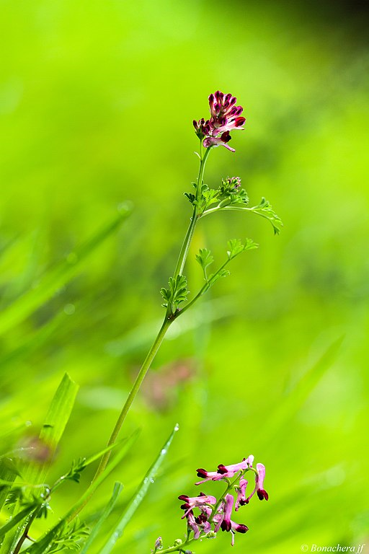 Also called drug fumitory or earth smoke.
The story…
Fumitory is native to temperate regions of North Africa, Europe and parts of Western Asia. It grows in all regions of the world; in France, it can be found in most of the regions, around living areas, in cultivated or fallowing fields, and in fissures of old walls. Its "smoky" or "fumy" name is said to refer either to its juice, which irritates the eyes like smoke, or to its grey leaves looking like smoke coming out of the soil.
Uses
Digestion et depurative
Fumitory has depurative effects the kidneys, as well as on the gall bladder and the liver (by stimulating the production and elimination of bile). It strengthens the nonstriated muscle contracting, whets the appetite and has a diuretic effect. It is useful in case of digestive difficulties, especially due to repeated food excess or exposure to pollution or chemical products; constipation due to hepatobiliary insufficiency; lack of appetite after convalescence; or water retention. Drink a small infusion before the meal.
Preparation
Infusion (fresh or dry flowers or leaves): one cup, once or twice a day, combined with other plants (for example German chamomile or lemon balm) to cover the bitter (dry plant) or acrid (fresh plant) taste.
Precautions
Contraindicated in case of hypotension or for people taking certain drugs having an effect on the liver. In case of persistent symptoms or if you have any doubts, consult a doctor.